St. John Bosco Academy,
St. Patrick's Parish,
Zing,
Jalingo Diocese, Nigeria.
Thank you!
As of 7/09/2022 €6,215.00 has been raised and was forwarded to the Jalingo Diocese as a contribution toward the further development of St. John Bosco Academy on 23rd September 2022.
This brings the total raised since June 2019 to €25,082.00.
If you are new to our ongoing fundraising effort we hope the following information will prove helpful to you.
Introduction
In 2019 St. Grellan's (Ballinasloe & District) Council of The Knights of St. Columbanus committed to fundraising in support of the efforts of Bishop Charles Hammawa, the clergy and lay faithful of the Jalingo Diocese to develop St. John Bosco Academy (Secondary School), in an impoverished region of the diocese.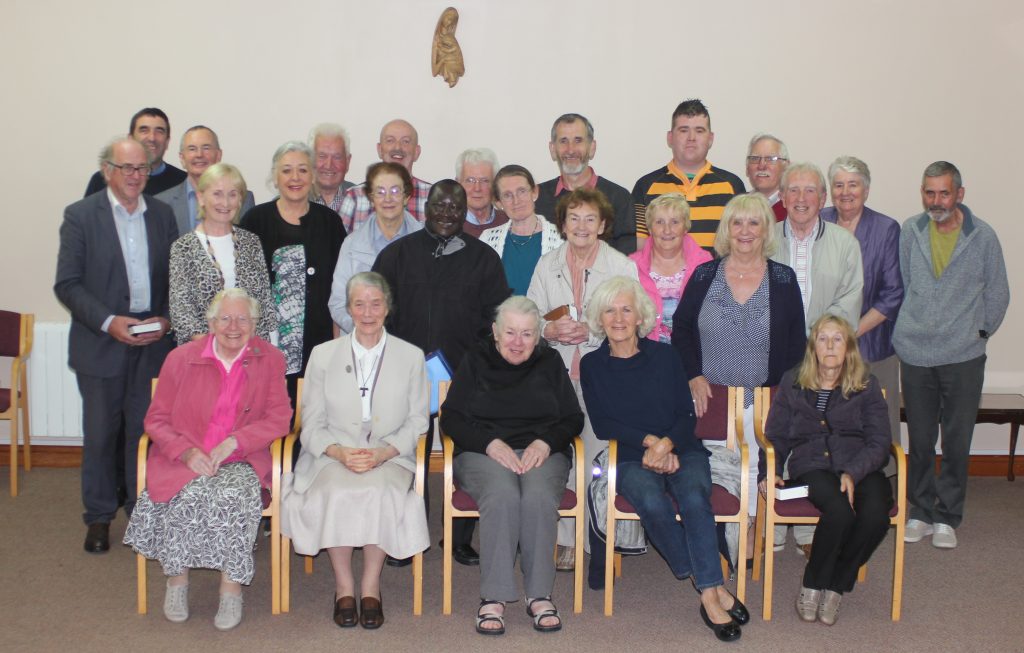 They raised €2,110.00 which, when put with local contributions, supported the building of a block of four classrooms.
In 2020 other adults in the greater Ballinasloe area communicated their desire and willingness to join St. Grellan's Council in their efforts (all members of the CREIDEAMH Faith & Friendship Network) and through the efforts of this larger group (now known as 'the Friends of Jalingo') €7,257.00 was raised toward the roofing and furnishing of eight classrooms and toward other essential works in 2020.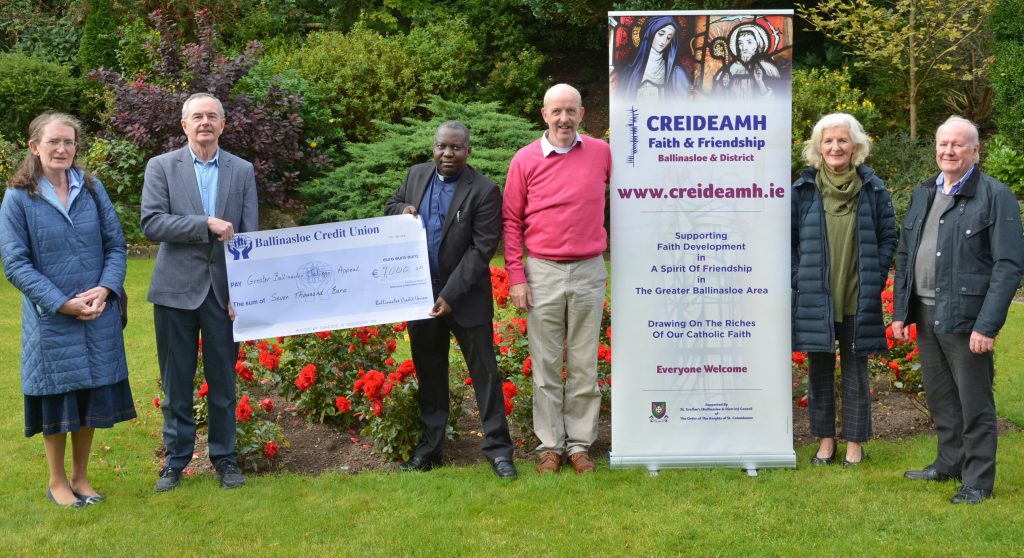 More recently (2021) a further €9,500 was raised and we are delighted to share the following report from the Jalingo Diocese regarding the spending of this sum.
2022 Report
REPORT FROM REV. FR. MARTIN IKE MONYE THE SCHOOL ADMINISTRATOR ST. JOHNBOSCO ACADEMY ZING FROM MARCH- 2021-APRIL 2022
Our humble efforts, in conjunction with assistance received from the 'Friends of Jalingo' in Ireland, is slowly but surely beginning to yield tangible fruits. Here is a progress report of grounds covered since the 2021 report submitted by Fr. Eugene Batare.
Students Population
A total number of two hundred and fifty six (256) students –247 Christians and 9 Muslims attend the academy. Of the Christians, 163 are Catholics while 84 are Protestants, 116 are Boys while 140 are Girls. Our efforts to keep an ecumenical focus remains unchanged, so also is our desire to foster harmony between young people of different faiths.
Staff Strength
As the school continues to grow, so also has the number of teachers. It now has a total number of twenty-two (22) staff members – 18 teaching [11 permanent and 7 part-time] and 4non-teaching staff. Our staff population is mixed just like the student population.20 teachers are Christians while 2 are Muslims,15 are males while7 are females. We are the only non-governmental institution with just religious flavor in the entire local government.
Local Efforts and Support
We are delighted to share the progress made in an ongoing effort to collaborate with various lay associations in the church to further this projects. Last year, we reported the offer by the Catholic Women Organization of Jalingo Diocese to partner with the Diocese in providing hostel accommodation especially for girls in the first instance. Further progress has been made in that regard as that building has now reached lintel level (see picture attached).
Beneficiaries of the Project
The beneficiaries of the completed project are the students from the three local governments of the northern part of the state namely: Lau, Yorro and Zing Local Government Area Councils, bearing in mind the aim to offer quality education in the Catholic Spirit. Last year, all the parishes in this jurisdiction raised funding to support the payment of staff salaries as the tuition paid by students are hardly enough offset salaries. We are aware that exorbitant school fees will only drive away students and defeat the purpose for conceiving the project. No fund raising for the school took place this year as parishioners are already required to raised money for the creation of a new diocese out of Jalingo.
New Appointments
The plan to create a new diocese has forced upon us new appointments. As stated in the Bishop's report, a new administrator for the school has been appointed, in the person of Fr James Emmanuel Teku. Fr James will continue to work hand-in-hand with the principal, Mrs. Deborah Militus for the smooth running of the school. While the frequent change of school administrators upsets continuity, the current change could not be avoided. In addition, a Christian is now the new Parents Teachers Association (P.T.A) chairman – Mr. James D. Lamma, while the Vice Chairman is a Muslim, Mr. Abdul Bello. These are all working together to ensure an effective management.
The 2020/2021 Donations:
We received the sum of €9,500 from 'Friends of Jalingo' and €9000 from donors from Ireland who, however preferred to remain anonymous. That total amount was exchanged at N580.00 amounting to N10,730, 000.00 (Ten million, seven hundred and thirty thousand naira only) in local currency.
Breakdown of Financial accounts:
INCOME:
Credit balance from last grant = N 86,027.00 (€148.3)
Last donations = N10,730,000.00 (€ 18,500.00)
Bishop = N 859,250.00 (€1,481.5)
Total income = N11,675,277.00 (€ 20,129.8)
EXPENDITURE:
The total amount received was spent on two principal aspects of the project namely:
a) Completion of Block of Classrooms
Ceiling = N472,500.00 (€814.7)
Batting = N 72,000.00 (€124.1)
Cement = N836,000.00 (€ 1,441.4)
Nails = N 18,000.00 (€31.0)
Plastering sand = N120,000.00 (€206.9)
Sharp sand = N 50,000.00(€86.2)
Paints = N216,000.00 (€372.4)
Water = N150,000.00 (€258.6)
Transportation = N 40,000.00 (€69.0)
Labour = N800,000.00 (€1,379.3)
Logistics = N 68,000.00 (€ 117.3)
Total = N 2,842,500.00 (€ 4,901.0)
b) Purchase of more land
The agreement entered into with the Catholic Women Organization for the construction of student hostels precipitated the need for more land so that the hostel facilities, which were not an original part of our plan do not take up the space for more classrooms, an administrative block and sporting facilities. Because the hostel facilities would enable us accompany and mentor the girls more effectively in a difficult milieu such as ours, the proposal was unanimously approved by the Parent Teachers and Association and the school committee. 62 plots of additional land were acquired and fully paid for as indicated in the records below:
Additional 62 plots of land = N8,446,750.00 (€14,563.4)
Land survey levy = N 86,077.00 (€148.4)
Legal fee = N 300,000.00 (€517.2)
Total = N8,832,827.00 (€15,229.0)
Grand Total of Expenditure
Completion of Classroom Block N2,842,500.00 (€ 4,901.0)
Purchase of more land N8,832,827.00 (€15,229.0)
Grand Total N 11,675,327.00 (€ 20,130.00 Approx)
Plans and Prospects
Thanks to you 'Friends of Jalingo', to our anonymous donors and our beloved Bishop, we have been able to complete the second block of classrooms. These classrooms have already been put into good use. Our immediate plans for the future will be to continue our collaboration with the Catholic Women Organization to complete the hostel project. Should the Lord bless us with more funding, the second project in our immediate plan is the building of a third block of classrooms in order to decongest our obviously congested classes. Without this, we are a long way off from getting the required government approval for our students to sit for the prescribed examinations to qualify them for studies in higher colleges.
Attachments:
1. Site plan of additional land purchased
2. The completed blocks of classrooms and offices
3. Students in some of the classes
4. Staff photos
5. The ongoing hostel building by the Catholic Women Organization (CWO) at the lintel level
Conclusion
Thank you again and again 'Friends of Jalingo' and our beloved Bishop for your kind and tireless support and donations. We truly appreciate. We are disposed to providing more information needed should you find any aspect of this report unclear. Thanks again and God bless.
___________________
Fr. Martin Ikechukwu Monye
Outgoing School Administrator
Saint John Bosco Academy, Zing.
St. John Bosco Academy (2022)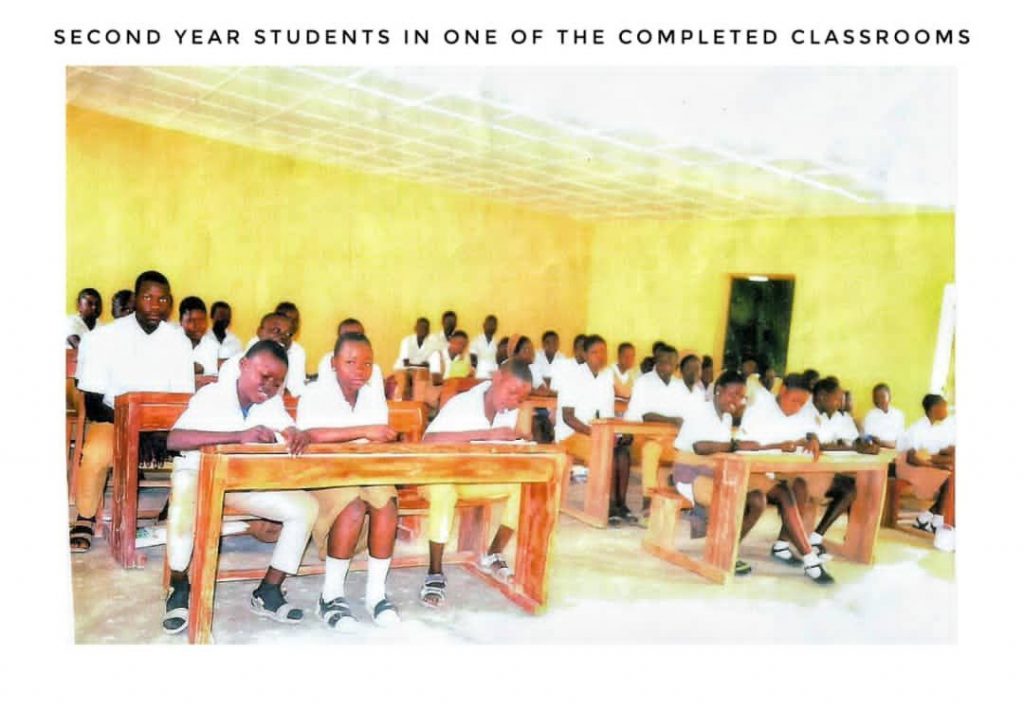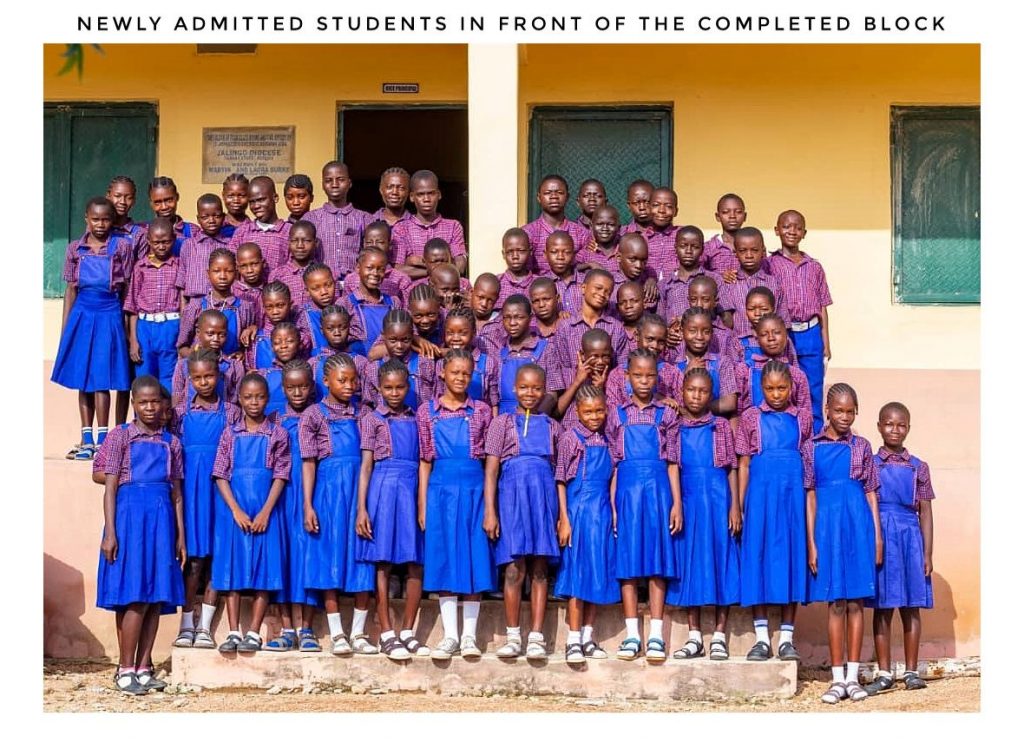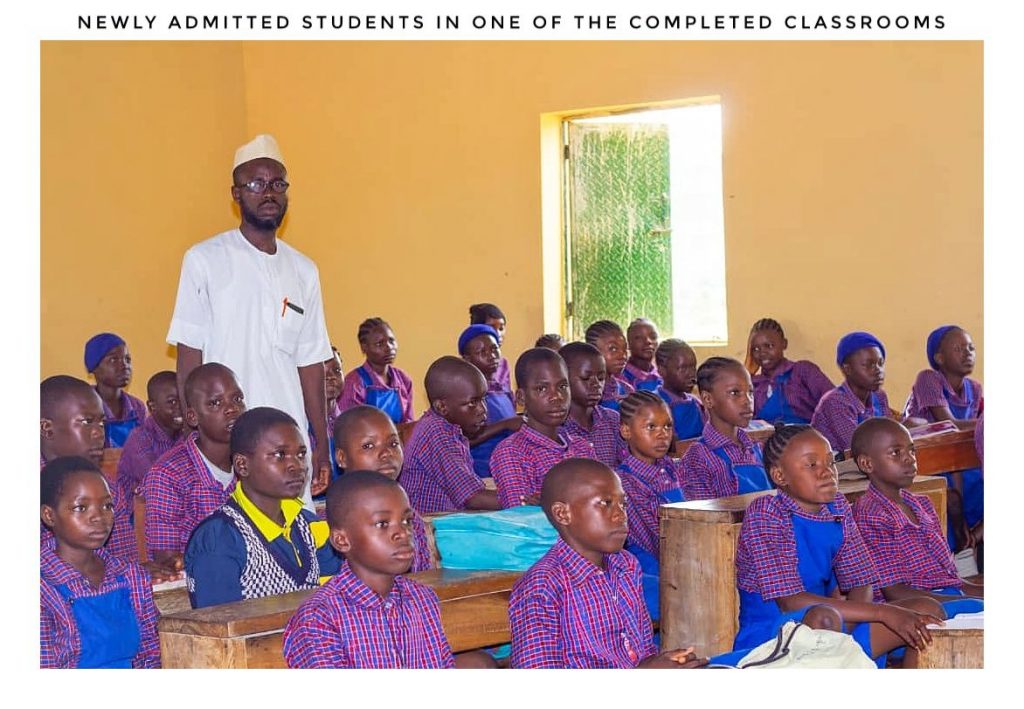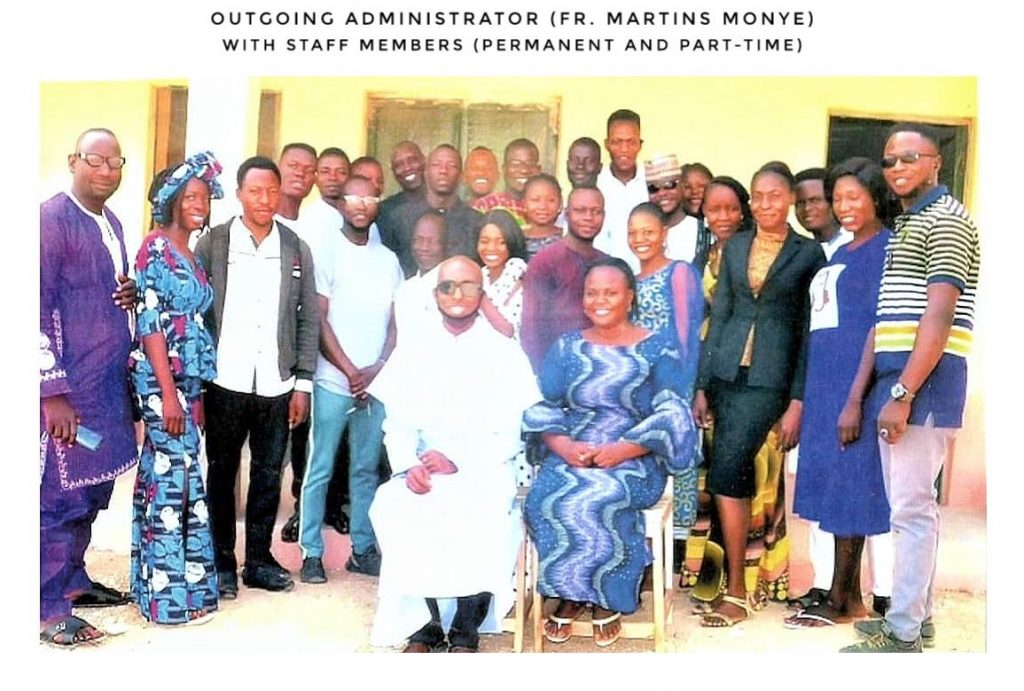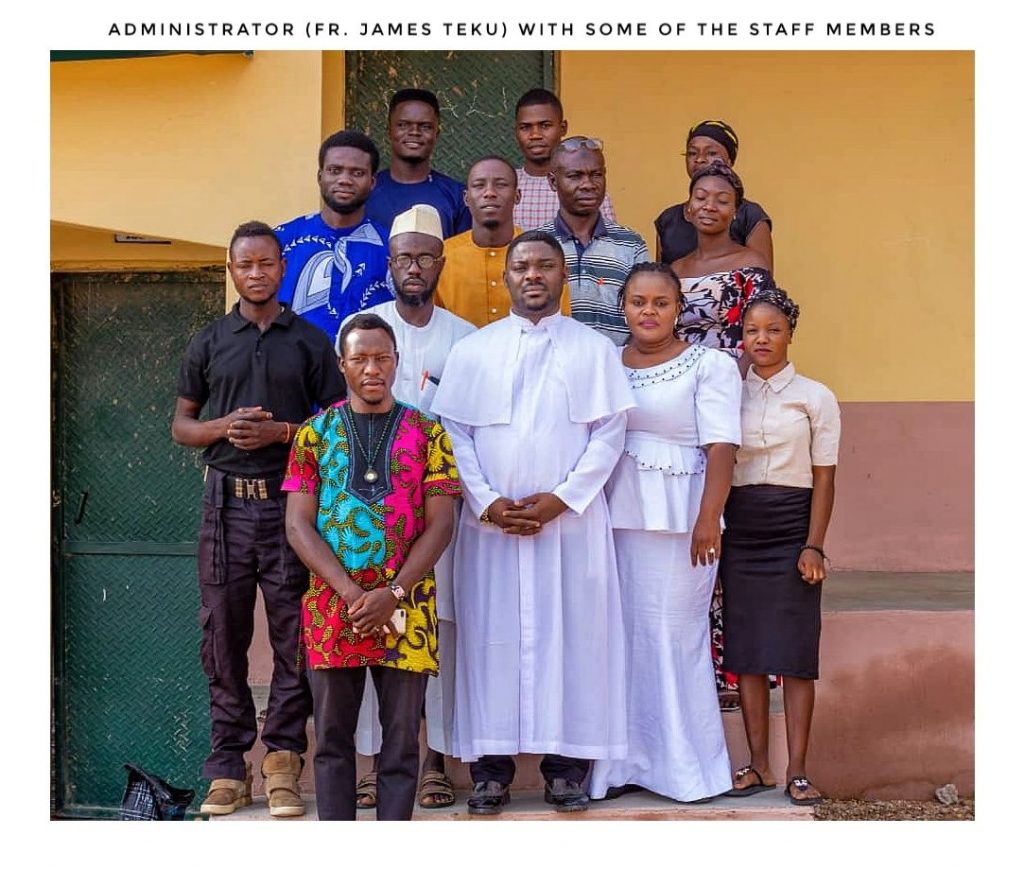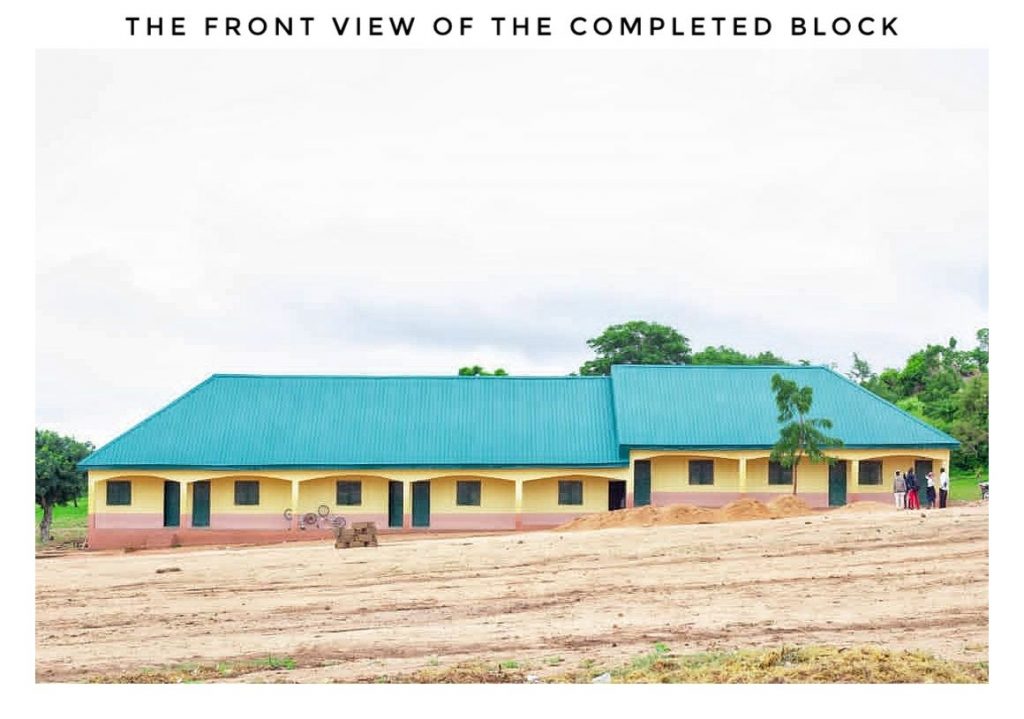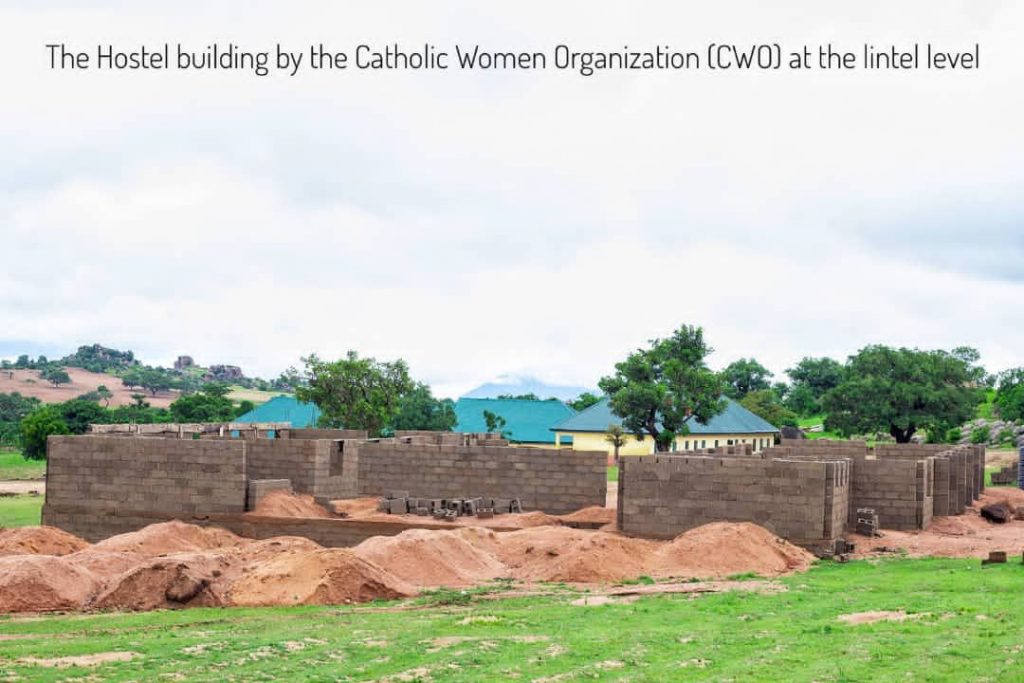 St. John Bosco Academy (2020)

St. John Bosco Academy April 2021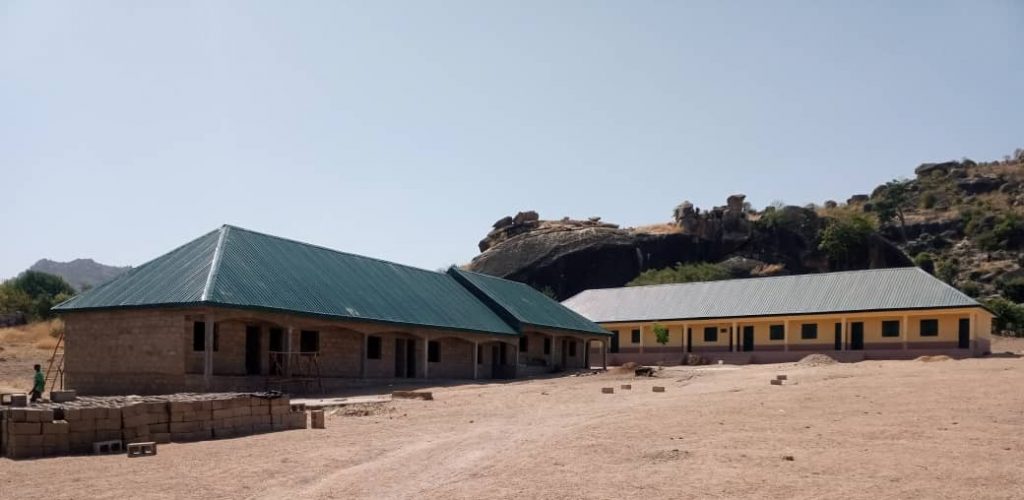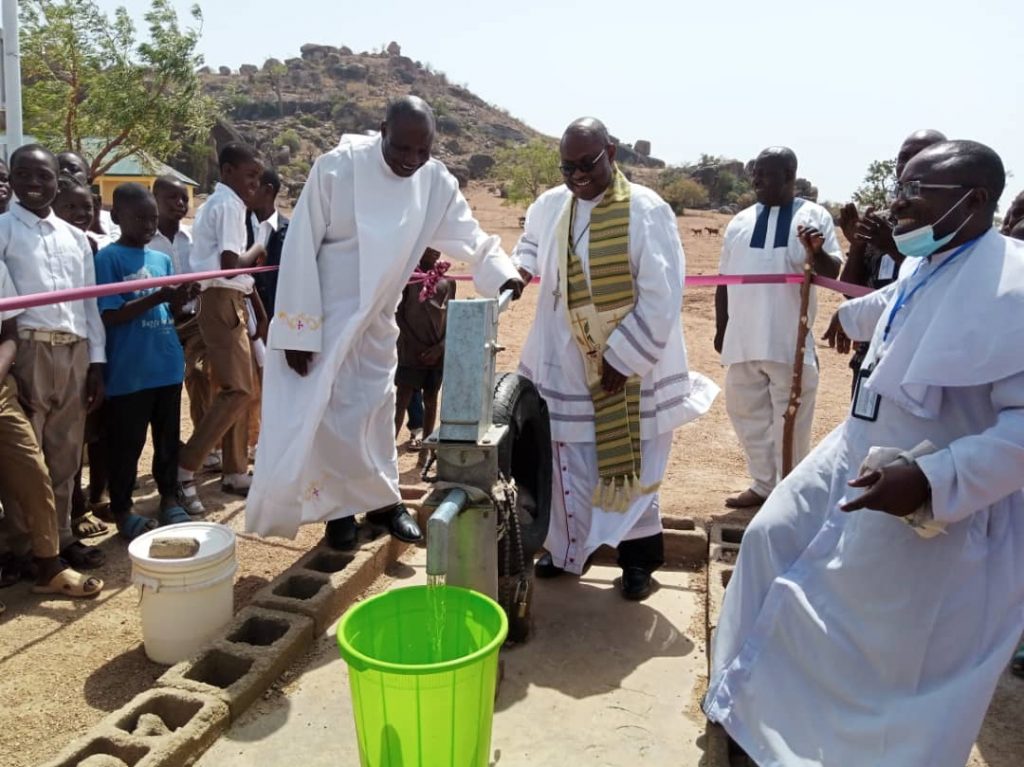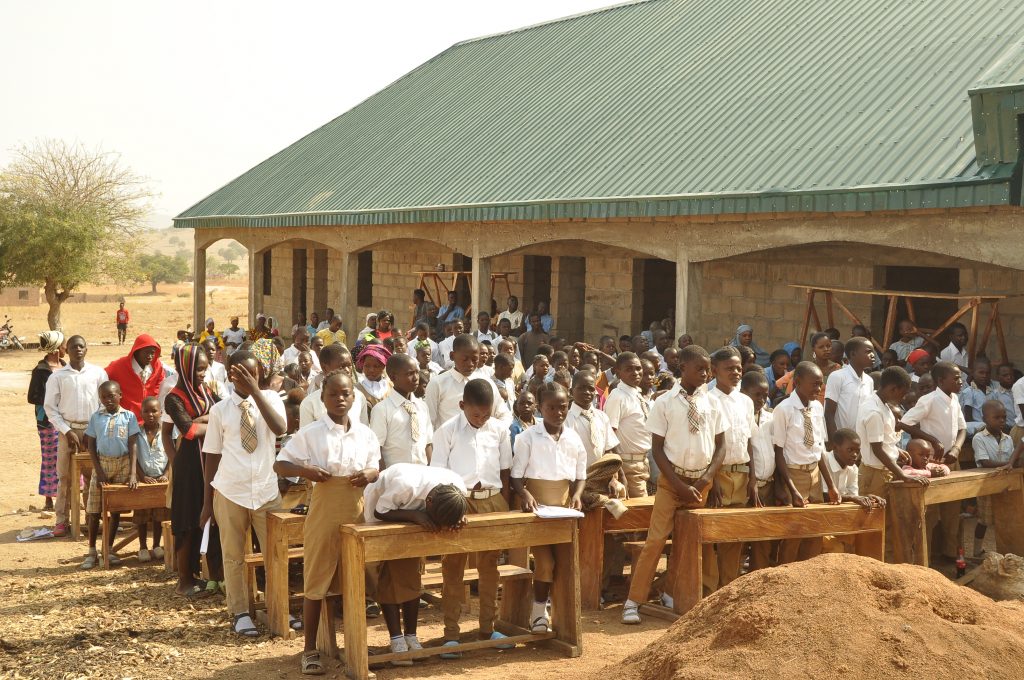 2022 Fundraising Target
Having received Fr. Eugene Batare's Report (see above) and mindful of local contributions to humanitarian aid for Syrian Refugees and victims of the War in Ukraine, we, as 'Friends of Jalingo' have set ourselves a target of €7,000 this year. We acknowledge this is ambitious but €1,000.00 has already been pledged. Furthermore we are very conscious that without education the 256 students and their families will be seriously prohibited from tackling the great challenges they face, including poverty, environmental challenges (grasslands turning to desert owing to climate change) and inter-religous tensions that are primarily fuelled by ignorance. We are also mindful of the many parents and grandparents, who would like their children, of all ability levels, to receive a secondary education but that the school cannot currently accommodate.
We appreciate that many women and men in the greater Ballinasloe area may not be in a position to be as generous as they have been in the past. We reiterate our thanks for your previous generosity.
We trust too that persons with questions regarding the status of St. John Bosco Academy within the Nigerian Education System etc. will find them addressed in Fr. Eugene's 2021 report (see link to download below).
June / July '22 Fundraising
Persons who would like to contribute to this worthwhile project can contribute by lodging their donation to the 'Greater Ballinasloe Jalingo Appeal Account', Ballinasloe Credit Union. The account number is 31922. Receipts for donations may be sought from:
Mr. Sean Kelly (Treasurer)
Tristane, Aughrim, Ballinasloe, Co. Galway.
Mobile: 086 1647970
Email: accounts@creideamh.ie
Donations can also be given to any of the following:
Mr. Michéal Cregg
Clonfad, Oldtown, Athlone, Co. Roscommon.
Tel: 086 2618152.
Ms Josephine Mulryan
Kilgarve, Creagh, Ballinasloe, Co Galway.
Tel: 087 788 3264.
Mr. John Coughlan
Kilclooney, Ballinasloe, Co. Galway.
Tel: 086 8600987.
Mrs. Patricia Monaghan
Clonfad, Oldtown, Athlone, Co. Roscommon.
Tel: 086 1608241.
Ms Margaret Burke
Abbeyville, Abbey, Loughrea, Co. Galway.
Tel: 087 6431187.
Mr. Francis Donohue
Coolfin, Abbey, Loughrea, Co. Galway
Tel: 087 150 2350.
St. John Bosco Academy Prayer Service
A Prayer Service invoking God's blessing on the building and further development of St. John Bosco Academy will take place in St. Michael's Church, Ballinasloe, 8 – 8.45 pm on Sunday, 10th July, 2022.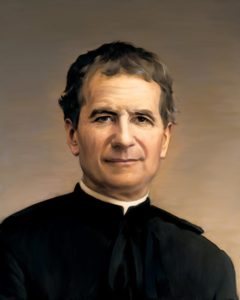 A relic of St. John Bosco, patron saint of young people, will be venerated at this prayer service and a blessing with the relic available afterwards (Covid Restrictions permitting).
Those who cannot attend in person are welcome to join us via live-stream @ www.churchservices.tv/ballinasloe .
Report from Fr. Eugene Batare PP, St. John Bosco Academy, St. Patrick's Parish, Zing, April 2021.
Here Bishop Charles, Fr. Eugene and the St. John Bosco Team respond to many of the questions donors have posed. They are also open to responding to additional questions.
One thing is clear. St. John Bosco Academy, in keeping with its Catholic identity, is proving a tremendous blessing to the wider community (Catholics, other Christians, Muslims, persons who engage in traditional African spiritiual practices and persons with no religious affiliation) by way of promoting harmony and goodwill among all persons.
Maps Identifying Nigeria & Jalingo Diocese
A number of donors have queried where in Nigeria, the Jalingo diocese is situatied. We hope these maps prove helpful.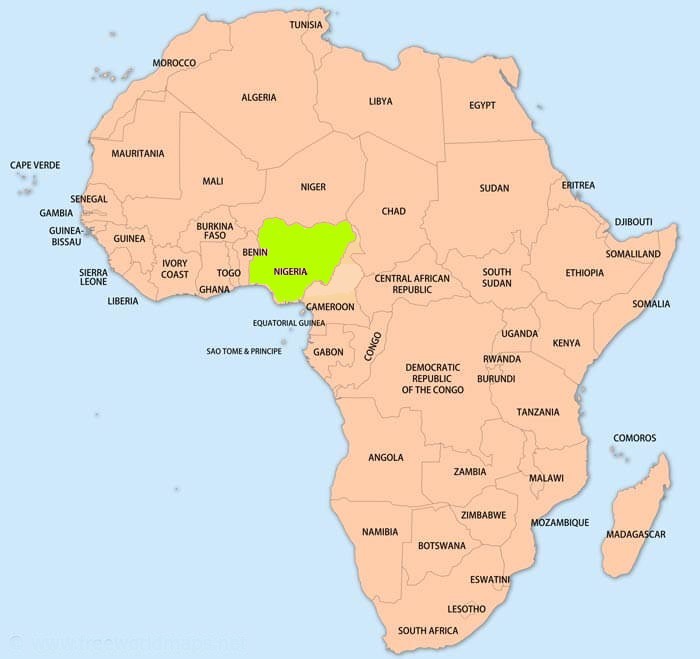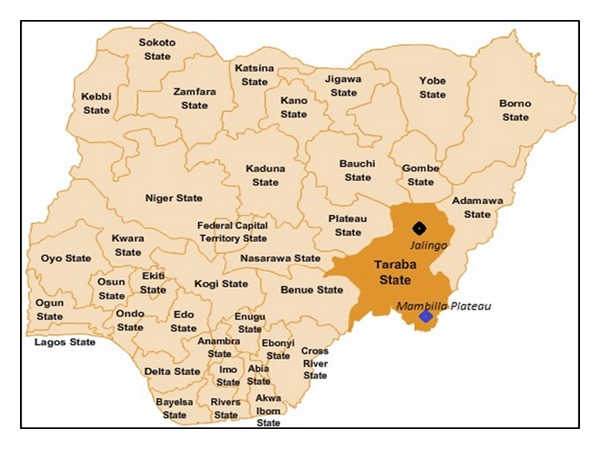 Thank you.
Updated: 1st January 2023